2022-23 ReliaQuest Bowl Schedule of Events
All dates and times are subject to change.

June 3rd - LMCU SUMMER SPLASH
A special weekend for Bowl sponsors and VIP Club Members at Saddlebrook Resort June 3-4. The outing includes a tennis tournament, golf tournament, hospitality room, banquet and plenty of time by the pool. To find out how you can qualify for an invitation to this year's event, contact the bowl at (813) 874-2695 or by email at [email protected].
(Invitation Only)
---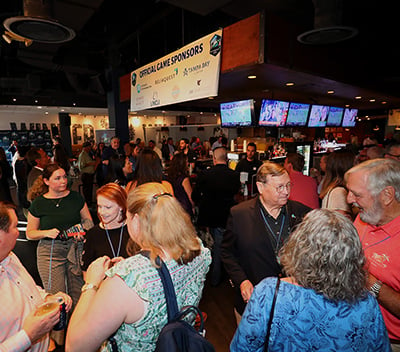 September 21st - HAPPY HOUR HUDDLE Presented By Buchanan
College football is back as the ReliaQuest Bowl kicks off its fall event calendar with a festive evening for more than 400 supporters at Splitsville located at the Sparkman Wharf complex. This event presented by Buchanan is for VIP Club Members and Sponsors by invitation only.

(Invitation Only)
---
December 7th - DEBARTOLO CONTRACT SIGNING PARTY
More than 700 Bowl supporters will welcome the Head Coaches to the Tampa Bay area a few days after the team announcement. The party is held in the West Club Lounge of Raymond James Stadium.
(Invitation Only)
---
December 26th - TEAM ARRIVALS
Bowl staff, city officials, and media greet the participating teams as they arrive at their team hotels.
---
December 27th - SPOUSES BRUNCH
Spouses from both team coaching staffs and school administrators enjoy a special brunch at the Tampa Yacht & Country Club hosted by the Bowl.
(Invitation Only)
---
December 28th - TEAM HOSPITAL VISIT
Players and coaches from both teams bring some cheer to children at Tampa General Hospital in Tampa. (DATE IS TENTATIVE)
(Invitation Only)
---
December 28th - PLAYERS NIGHT AT SPLITSVILLE
Join the teams as they enjoy an evening of fun and games at Splitsville at Sparkman Wharf along the downtown Tampa waterfront. Teams only from 6:00 - 7:00; Doors open to the public at 7:00 P.M.
---
December 29th - BUSCH GARDENS TEAM OUTING
Both teams and their fans enjoy the attractions and festivities at the world-famous Busch Gardens theme park during bowl week. Admission tickets for the general public are available at the gate or online at https://buschgardens.com/tampa/ .
---
December 30th - CLEARWATER BEACH DAY Presented by Visit St Pete - Clearwater
Join the teams, their marching bands and cheerleaders as they enjoy the sun and beaches at the Hilton Clearwater Beach next to Pier 60. This fun day includes live music, skydivers, a tug-of-war and other contests from 11:00 a.m. to 4:00 p.m. The event is sponsored by Visit St Pete - Clearwater, the Hilton Clearwater Beach, Amplify Clearwater, City of Clearwater, Allegiant, St Petersburg-Clearwater International Airport, 93.3FLZ, 970WFLA and 620WDAE Radio.
After Beach Day stick around for Sunsets at Pier 60 featuring artisans, music and more while you watch the sunset on the Gulf of Mexico.
Click here for parking options
---
December 30th - TAMPALAW GRIDIRON GALA
This prestigious evening is the holiday event of the year for bowl and school VIPs at the Marriott Water Street Hotel in downtown Tampa. The event is sponsored by TAMPALAW and features food stations, dessert room and even a cigar bar. See our gallery for photos from most recent year. (invitation only)
(Invitation Only)
---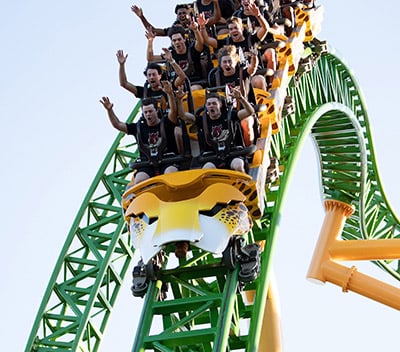 December 31st - BATTLE OF THE BANDS AT BUSCH GARDENS
Join the college marching bands at Busch Gardens as they square-off for a special "Battle of the Bands" performance. Admission to park required. Performance at Gwazi Park. Time TBD.
---
December 31st - NEW YEAR'S EVE PARADE & BIG STORM PEP RALLY
Tampa's historic Ybor City Latin District is host of the popular ReliaQuest Bowl New Year's Eve Parade. Fans will enjoy High School Marching Bands from across the country along with floats and the participating college bands and cheerleaders as they march down 7th avenue. Stay for the Big Storm Brewing Pep Rally at the end of the parade route then stop by Big Storm Brewery and the many restaurants and night spots throughout Ybor and Downtown Tampa. The Parade steps off at 5:30 p.m.
---
January 1st - PREGAME BOWL BASH
Bowl fans can warm-up for the big game outside the stadium starting at 9:00 AM with live music on stage, entertainers, interactive games and appearances by the college bands & cheerleaders. Features various displays from Tampa Bay Lightning, the U.S. Air Force , Busch Gardens, Visit St Pete - Clearwater and more. Food & refreshments will be available for purchase. On the south plaza between gates C & D and on Tampa Bay Blvd..
---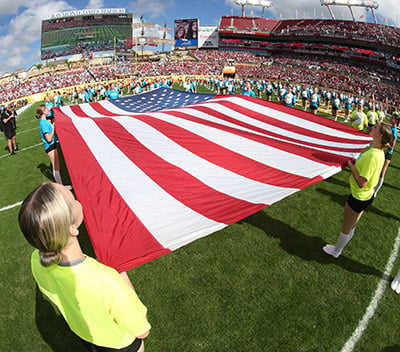 January 1st - TAMPA GENERAL HOSPITAL PREGAME SHOW
Enjoy a colorful pregame show presented by Tampa General Hospital featuring the pageantry of high school and college bands along with numerous special activities including a flyover and coin toss by a special guest celebrity. A popular ReliaQuest Bowl tradition you won't want to miss. The show begins 40 minutes prior to kickoff.
---
January 1st - RELIAQUEST BOWL 2024
The ReliaQuest Bowl will match teams from the SEC and Big Ten (or ACC/NotreDame if a Big Ten Team plays in the Orange Bowl) . Kickoff time 12:03 PM ET.
---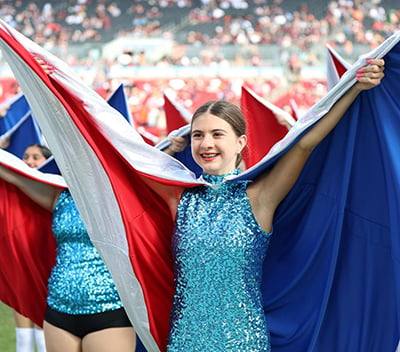 January 1st - HALFTIME SHOW
Wait until you see this colorful halftime show featuring more than 1,500 performers! The two college bands will perform followed by a massed band performance by high school bands from around the country along with an all-star dance group.
Note - All events, dates and times will be confirmed in the coming months and are subject to change.