Welcome to Tampa
Tampa offers plenty to do and see as home to major attractions, recreational opportunities, nature, the arts and shopping. In fact visitors may find it difficult to choose what they want to do.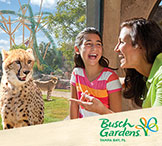 Experience attractions such as world-famous Busch Gardens, featuring world-class thrill rides, live entertainment and one of North America's largest zoos in an unforgettable adventure for the whole family.
You can explore the depths of Florida's underwater world at the unique Florida Aquarium where visitors can even take a plunge in the 500,000 gallon Coral Reef tank.
Enjoy the numerous restaurants and nightlife Tampa has to offer, including those at Sparkman Wharf on the downtown waterfront, or in historic district of Ybor City.
Visit one of the most beautiful, tropical zoological settings in the world at Zoo Tampa at Lowry Park.

Ybor City is truly a refreshing blend of interests - a mecca of historic architecture, entertainment, shopping, business and the arts.
Nature lovers can get right to the heart of "real Florida" whether horseback riding through a cattle ranch or leisurely canoeing or kayaking a pristine river or bay. You will find endless opportunities to observe wildlife such as manatees, American Bald Eagles and alligators in their natural habitats.
Experience numerous cultural offerings during your stay with a visit to a Broadway show at the Straz Center for the Performing Arts.
And golfing is a way of life in the bay area with more than 100 of some of the best courses in the state.
For a list on where to go and what to see during your visit click here.